---
PETRONAS DYNAMIC DIESEL EURO 2M
PETRONAS, short for Petroliam Nasional Berhad, is a Malaysian oil and gas company that was founded on 17 August 1974. Wholly owned by the Government of Malaysia, the corporation is vested with the entire oil and gas resources in Malaysia and is entrusted with the responsibility of developing and adding value to these resources.
PETRONAS is ranked among Fortune Global 500's largest corporations in the world. Fortune Global ranks PETRONAS as the 75th largest company in the world in 2013. It also ranks PETRONAS as the 12th most profitable company in the world and the most profitable in Asia. Since its incorporation, PETRONAS has grown to be an integrated international oil and gas company with business interests in 35 countries. As of the end of March 2005, the PETRONAS Group comprised 103 wholly owned subsidiaries, 19 partly owned outfits and 57 associated companies. Together, these companies make the PETRONAS Group, which is involved in various oil and gas based activities. The Financial Times has identified PETRONAS as the most influential and mainly state-owned national oil and gas companies from countries outside the OECD.
PETRONAS IS engaged in a wide spectrum of petroleum activities, including upstream exploration and production of oil and gas to downstream oil refining; marketing and distribution of petroleum products; trading; gas processing and liquefaction; gas transmission pipeline network operations; marketing of liquefied natural gas; petrochemical manufacturing and marketing; shipping; automotive engineering; and property investment.
GREEN GAIA SOLUTIONS IS AN AUTHORIZED MANDATE FOR PETRONAS' AUTHORIZED TO SELL (ATS) SUBSIDIARY.
GREEN GAIA SOLUTIONS' core focus is on PETRONAS Dynamic Diesel, a high natural cetane diesel fuel formulated to provide superior injector deposit cleaning performance, better fuel economy, improved power as well as lower exhaust emissions.
PETRONAS Dynamic Diesel exceeds EURO 2M requirements and meets SIRIM MS 123:2005 criteria. SIRIM, formerly known as the Standards and Industrial Research Institute of Malaysia (SIRIM), is a corporate organisation owned wholly by the Malaysian Government, under the Minister of Finance Incorporated. It has been entrusted by the Malaysian Government to be the national organisation for standards and quality, and as a promoter of technological excellence in the Malaysian industry.
PETRONAS Dynamic Diesel EURO 2M is suitable for all diesel vehicles. The fuel has been tested and proven with highway, city and rural driving conditions on passenger cars, 4x4s, trucks and buses with indirect injection, direct injection, common rail direct injection and turbocharged engines.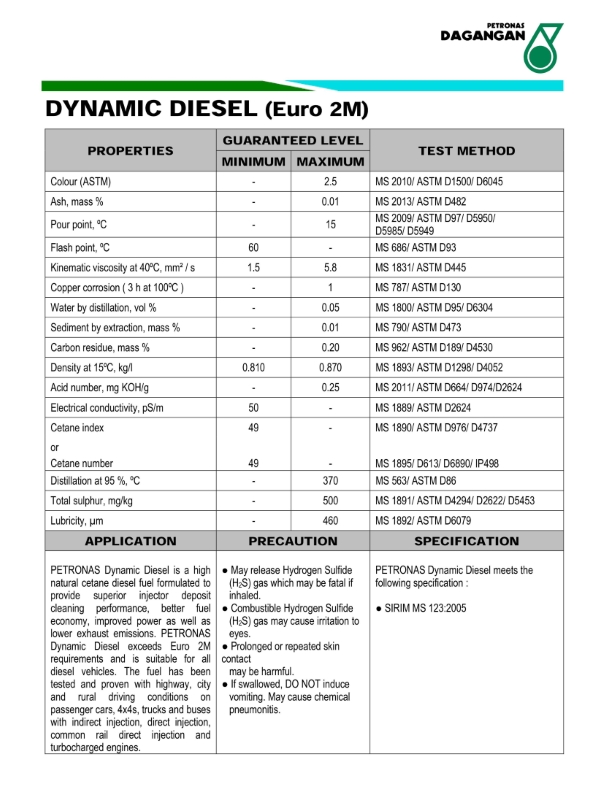 PETRONAS DYNAMIC DIESEL EURO 2M SPECIFICATIONS
To receive a quotation and detailed information, kindly email to This email address is being protected from spambots. You need JavaScript enabled to view it.